Greetings from SeaSide!
Fall is in the air. Fall is the perfect time to visit North Myrtle Beach. The rates are low, but the temperatures are still warm. For rates and reservations, please visit
www.SeaSideMB.com
or call 1-877-647-6438.
News from SeaSide
A Message From Our Manager on Hurricane Matthew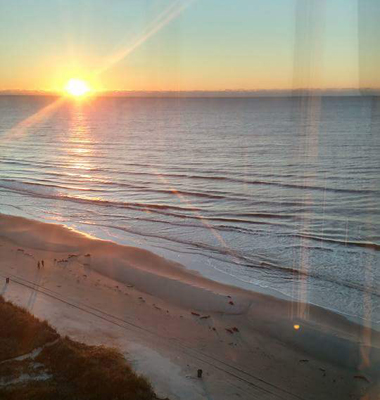 Hurricane Matthew swept through earilier this month. We were very lucky as we sustained only minimal damage.
Hurricane Matthew broght rainy and windy weather throughout the day on Saturday. It left behind one of the most beautiful sunrises that we have ever seen on Sunday morning.
SeaSide was fully up and running as soon as our evacuation order was lifted. To look at our beautiful resort, you would never know that we were affected by a hurricane less than a month ago.
Our hearts go out to our neighboring areas that still suffering from the after effects of the storm. If you are visiting us in the near future, please bring some no perishable food items as we are taking up a collection. If you aren't visiting, but would still like to donate, you can donate to the OneSCFund by clicking
HERE
.
SeaSide Supports Suicide Prevention

Marvis Livingston, Manager at Seaside, loves giving back to charity. Especially, when it is an issue that is near and dear to her heart.
This fall Marvis is involved in an
Out of the Darkness
Walk in memory of her son.
These walks benefit Suicide Prevention.
Out of The Darkness
Walks are proof that when people work together, they can make big changes in the world.
The goal of these walks is to reduce the annual suicide rate in the United States by 20% by 2025. These walks are held in hundreds of cities across the country and they give people the courage to open up about their own struggle or loss, and the platform to change our culture's approach to mental health.
To donate to Marvis' walk, please
Click Here
.
Meet Ebony Waters | Front Desk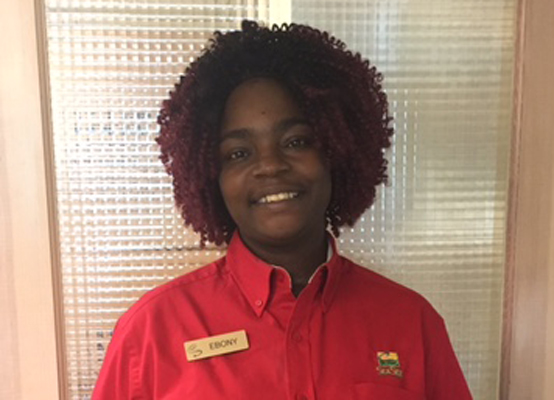 Meet Ebony Waters, one of our treasured Front Desk Agents.
Ebony enjoys working at our Front Desk. Her favorite aspect of her job is customers. She especially enjoys helping guests get a great start to their beach vacation.
Ebony has lived in the Myrtle Beach area for nine years. Her favorite thing to do is going on road trips with her family and three children.
Be sure and stop by the front desk to tell her 'hello' the next time you are at SeaSide!
News from the Beach
Learn Glass Blowing in Conway, SC.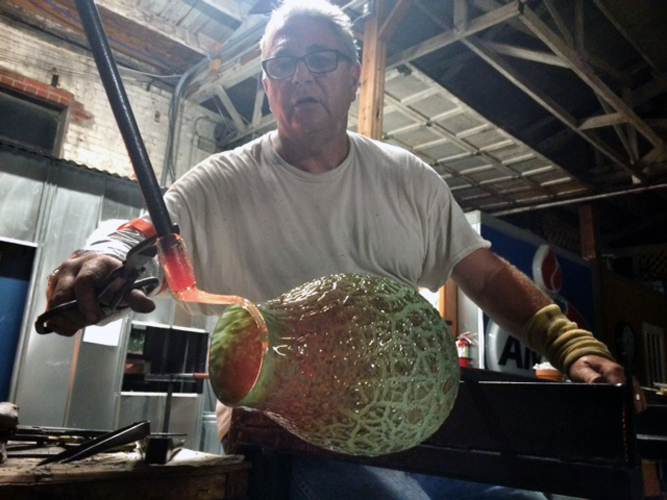 Art may not be the first thing that comes to mind when you think of the Myrtle Beach area. Conway Glass is located in Conway, South Carolina, which is just a short drive from our resort.
Conway Glass is owned and operated by Ed and Barbara Streeter, who have been blowing glass for over a quarter of a century. They can often be seen hard at work making colorful glass bowls, vases, paperweights, and ornaments in their studio.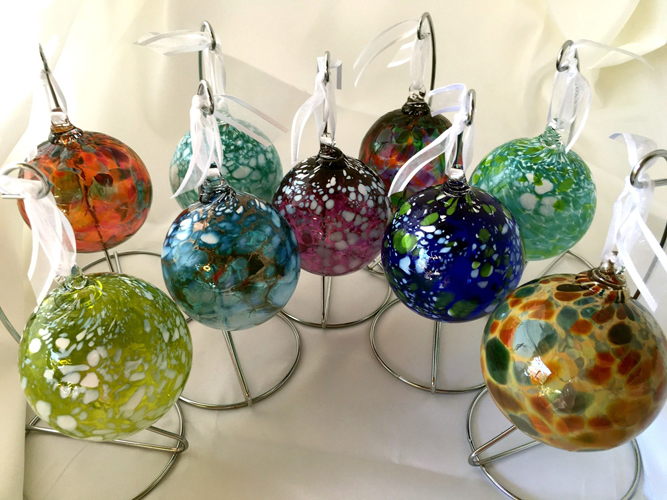 You can even join in on the glass blowing fun as Conway Glass offers a variety of glass blowing classes. Classes are offered October through April and include a one-on-one learning experience with a professional glass-blower. There are classes for age 5 and over and classes for ages 18 and older.
Classes include an ornament class, where attendees will learn the basics about glass blowing and then blow a 3" round friendship ball or Christmas ornament. Take in a bowl making class, where attendees will test their glass blowing skills even further. Other classes include a paperweight class and even a make-your-own glass pumpkin class.
Want to learn even more about glass-blowing? They have a 2 1/2 hour one-on-one class with a professional glass blower. You'll learn to use glass blowing tools to create beautiful works of art and you'll begin by making a successful starter bubble to create a vase, a small candy dish, or a tumbler. For more information about Conway Glass and their glass blowing classes, please
Click Here
.
2017 Carolina Country Music Festival
The 2017 Carolina Country Music Festival may be months away, but now is the time to make your hotel reservations. This past year's 2nd Annual Carolina Country Music Fest drew thousands of people to the site of the former Myrtle Beach Pavilion. The 3rd Annual Music Fest will be held from June 9th through June 11, 2017. Kenny Chesney was recently announced to be the headliner for the 2017 festival!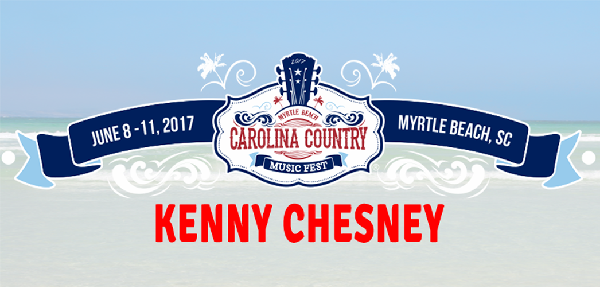 Kenny Chesney has recorded over twenty albums and ten of those albums hit top spots on the country charts. He has many number one hits including
When the Sun Goes Down
,
You Had Me From Hello
,
Beer In Mexico
, and
The Good Stuff
.
Kenny is no stranger to Myrtle Beach as he filmed his music video for
Anything But Mine
at Myrtle Beach's very own Family Kingdom Amusement Park.
A limited few Early Bird Tickets are available for the 2017 festival and these include access to all three days of concerts. For more information or to purchase tickets to this festival, please visit
CarolinaCountryMusicFest.com
. Don't forget to make your accommodation reservations with us by calling 1-877-392-2713.
From The Golf Desk
First of all, our thoughts and prayers are with those of you who were affected by Hurricane Matthew. It was a rough storm, but our area made it through. It is safe to say that Myrtle Beach area golf courses won the battle. Even though the damage in some places was worse than others, many courses were open by the Tuesday after the storm. Most were even riding the fairways by Thursday!
As Providers, we were able to stay one step ahead of our groups to get them switched from courses that may have been closed to those that were open.
Hurricane Matthew is gone now and for those of you up north, the snow is on its way. Come November 20th, the rates are going down and that is the perfect time for you to start planning a winter getaway. We will customize a trip for you that fits you perfectly. For more information, give us a call or email
Golf@SeaSidemb.com
. Hopefully, we will see you at the beach!
Scott Thrailkill,
Director of Golf - SeaSide, Myrtle Beach SeaSide Resorts, MyrtleBeachGolf.net, and TeeUpMyrtleBeach.com.

Guest Comments
"

Our 2 bedroom condo overlooking the ocean was amazing. The lazy river, pools, breakfast and staff were all the best. Hurricane Matthew cut our stay short. The staff kept us informed about the storm and best evacuation times and routes. I'm looking forward to returning next year.

"
Billie Joe P. via TripAdvisor.
"

The room was exactly as advertised and the staff was very helpful and knowledgeable, and they were also very courteous.

"
Michael Woodall, via TripAdvisor
Click here to read more Guest Comments.
Fun in the Sun
Beach Travel Tips
Packing for the beach can be a daunting task. These tips below make it a little easier.
Bring the Fitted Sheet to The Beach:We've all had the annoyance of trying to keep a beach towel planted firmly on the sand. Instead of wrestling with your towel, use a fitted sheet instead. The corners of the fitted sheet can be propped up with a cooler, shoes, etc. That way, the fitted sheet will not only lie flat in the sand, but it will also have some edges with height that can keep you a little more secure.


Take along a beach chair or two: It can be downright annoying to lug beach chairs from the condo, hotel room, or car to the beach. With that being said, they can be livesavers! Not only do they give you a comfy place to sit, but you'll also get less sandy throughout the day.


Give Away Your Beach Toys at the End of the Week: If the thought of taking $20 worth of beach toys all the way back home with you doesn't float your boat, why not pay it forward and give the toys to another family to use on your last day? You won't have to lug sandy plastic back to your house, and you'll get some good karma.
Fall Recipe
-
Apple Cinnamon Muffins
1 1/2 cups all-purpose flour
3/4 cup white sugar
1/2 teaspoon salt
2 teaspoons baking powder
1 teaspoon ground cinnamon
1/3 cup vegetable oil
1 egg
1/3 cup cold milk
2 apples - peeled, cored and chopped
1/2 cup white sugar
1/3 all purpose flour
1/2 cup butter, cubed
1 1/2 teaspoons ground cinnamon
Directions:
Preheat oven to 400 degrees F.
Grease six muffin cups or line with paper muffin liners.
Stir together 1 1/2 cup flour, 3/4 cup sugar, salt, baking powder, and 1 teaspoon cinnamon. Mix in oil, egg, and milk.
Fold in apples. Spoon batter into prepared muffin cups, filling to the top of the cup.
In a small bowl, stir together 1/2 cup sugar, 1/3 cup flour, butter and 1 1/2 teaspoons cinnamon. Mix together with fork and sprinkle over unbaked muffins.
Bake in preheated oven for 20 to 25 minutes, until a toothpick inserted into center of a muffin comes out clean.