2016 has brought quite a few new restaurants to Myrtle Beach. There are new barbecue restaurants, new breakfast joints, new pizza spot, and even a new healthy eatery
American Tap House is bringing their first restaurant to our area at Broadway at the Beach. American Tap House is a new craft brew restaurant.
Two new barbecue restaurants have opened in the Myrtle Beach Area. Bonfire: A Smokin' Taqueria has opened along the Riverwalk in Conway and it is home to both barbecue and Mexican options. Brisket and Mission BBQ have recently opened in North Myrtle Beach. Brisket serves Texas-style barbecue while Mission BBQ is more southern-style barbecue restaurant.
Clean Eatz is the place for you if you enjoy eating healthy. They offer healthy meals in their cafe as well as weekly meal plans that you can sign up for.
There are also a couple of new coffee and breakfast restaurants that have recently opened in our area. Coffee Nerd has opened near Coastal Carolina University.
Famous Toastery, a new place to grab a quick bite for breakfast will be opening soon in Carolina Forest.
North Myrtle Beach is now home to MOD Pizza. At MOD Pizza, you build your own pizza with a myriad of options.
The Crafty Cow, a new ice-cream parlor has opened at Barefoot Landing.
Wahlburgers, a famous burger chain that was founded by celebrities Paul, Mark, and Donnie Wahlburg, will be opening at Broadway at the Beach's Celebrity Square sometime soon.
Top 10 Kid's Activities Under $10 in Myrtle Beach


There are so many fun things to do in Myrtle Beach. It can be very hard to decide what to do on your short visit and that can lead to spending more money than you intended. There are plenty of fun activities to do with kids in Myrtle Beach under $10.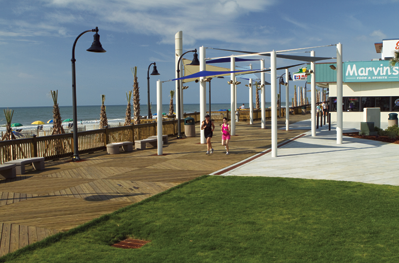 10. Myrtle Beach Boardwalk Entertainment District:
The Myrtle Beach Boardwalk is always free to walk on and free to enjoy unless you decide to indulge in some sweet treats along the way. Families will enjoy walking along the oceanfront boardwalk while checking out some of the live entertainment that often takes place in that area. Make memories as you peruse shops, stop and play some arcade games, or simply enjoy your views of the beach. For more information about the Myrtle beach Boardwalk,
Click Here
.
9. Art Museum of Myrtle Beach:
The Art Museum of Myrtle Beach is located near the Springmaid Pier in Myrtle Beach. Admission to the museum is free, however donations are graciously accepted. It features several different exhibits and the Art Studio, which is where visitors of all ages can participate in the workshops. For more information about The Art Museum of Myrtle Beach, please
Click Here
.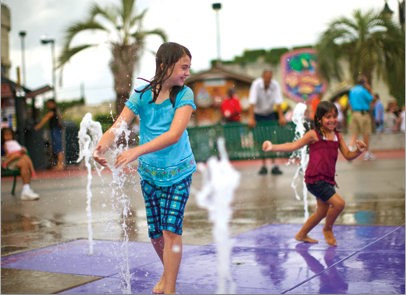 8. Broadway at The Beach:
Broadway at the Beach is one of the most popular locations in Myrtle Beach. It has specialty shops, dining, and multiple family friendly attractions. Children of all ages will love riding the rides at the Pavilion Nostalgia Park and they will enjoy playing the games in the arcade. Kids will especially enjoy playing miniature golf at
Dragon's Lair Fantasy Golf
where kids 10 and under can play for $8 before 6:00 pm, and $9 after 6:00 pm.
7.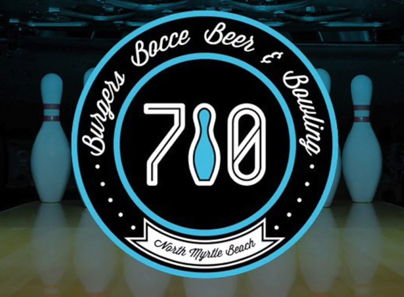 710 North Myrtle Beach:
710 North Myrtle Beach is one of North Myrtle Beach's most fun places. They offer classic white-light bowling, private back-lit glow lanes, board games, coin-operated games, and even free-games. We recommend playing a game of giant Jenga. 710 also features a full-service restaurant and bar. Bowling prices ranges from $3 per game to $5 per game. For more information, please
Click Here
.
6. Brookgreen Gardens:
We all know about the natural beauty and statues at Brookgreen Gardens. However, did you know that there are also several kid-centered exhibits throughout the year? The Children's Nature and Sensory Trail will teach kids about the wonders and beauty of nature while engaging their imagination. Did you know that you can ask for a Brookgreen Detective booklet from the Welcome Center, which will allow your child to become a nature sleuth for the day as the follow clues and explore the grounds in a way that is geared towards their age group? Kids ages 4-12 are $8 and Kids under 3 are free. For more information, please
Click Here
.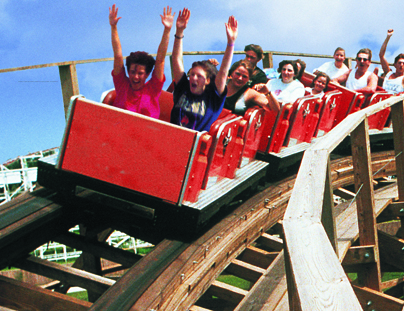 5. Family Kingdom
: Admission to Family Kingdom is always free. Each ride costs between $2 and $5. Rides at this amusement park include the ever-popular Swampfox Rollercoaster, the spinning Yo-Yo, the swinging Pirate Ship, or the perennial favorite, Bumper Cars. There is something for kids of all ages at Family Kingdom. For more information please
Click Here
.
4.Fun Plaza Arcade:
Do your kids love classic arcade games? Then the Fun Plaza Arcade, located on the Myrtle Beach Boardwalk is the perfect spot. This arcade is filled with games of all kinds from classic arcade games like skeeball and racing stimulators, to games of chance, and several claw machine games. Win tickets based on your game performance and save them up for an awesome prize to take home.
3.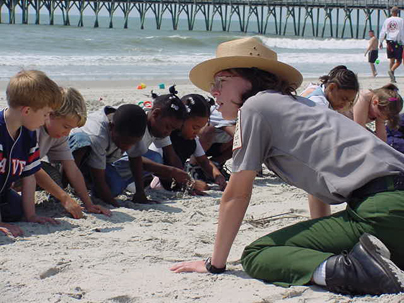 Myrtle Beach State Park:
Myrtle Beach State Park is one of the best state parks in our area. They have many kid-friendly, nature-related activities during the summer and plenty during the off season as well. Kids can learn about sea turtles, sharks, leaves, dragonflies, and more. Kids can even join in on a game of Park Jeopardy. Kids under 6 are free. For more information, please
CLICK HERE
.
2. Myrtle Beach Skywheel:
The Myrtle Beach Skywheel has definitely become one of the most iconic landmarks in the Myrtle Beach Skyline. The Skywheel continues to be popular among people of all ages. Kids will love seeing the beach and the sites of Myrtle Beach from a bird's-eye view. Tickets for children ages 3-11 are only $9.
1.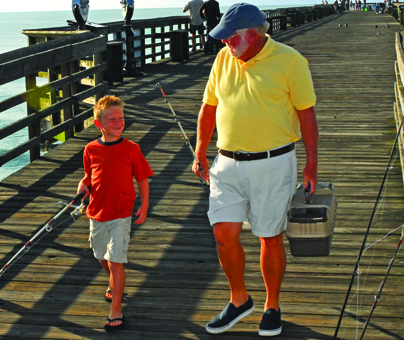 Cherry Grove Fishing Pier:
The Cherry Grove Pier is one of the most beloved piers in the Myrtle Beach Area. The pier, which has been in the area since the 1950, is one of the best fishing spots along the Grand Strand. Bluefish, Mackerel, Red Drum, Sea Trout, Spots, Whiting, and Summer Flounder are among the species typically caught from the pier. You can also go crabbing for Blue Crab from the pier!
This is sure to be a favorite for kids of all ages. A one day fishing pass is $2 plus $6 per rod if you bring your own! Or if you'd prefer to walk the pier and look for dolphins, a pier-walk pass is only $2! For more information, please
CLICK HERE
.
From The Golf Desk
The fall golf booking season is in full swing now. With many courses giving deeper discounts for booking early, tee times are filling up.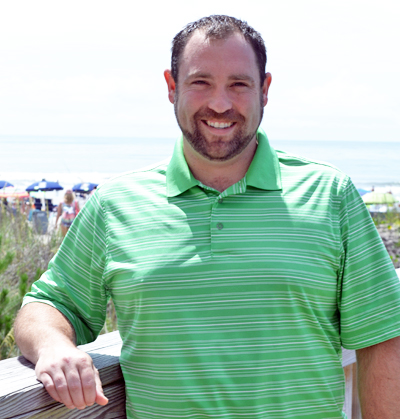 When you are booking your trip this fall, keep in mind that daylight savings goes until November 6th, 2016. This is very important since many golf courses are once again offering huge savings for those tee-times after 12pm or 1pm. During the fall you can finish 18 holes if you tee off after 1pm up until late October.
Be sure to keep an eye out for some great new packages; such as the
Founder's Group Play 3 and Get the 4th Free
. The Founder's Group has 22 courses and you can choose your free round from 18 of those 22 courses. The only restriction is that the free round has to be played after 1pm. If you are arriving in the afternoon and cannot wait to tee off, this will be the perfect package for you. Who wouldn't like to drive in and play Long Bay for free? To learn more about this package and to receive the absolute best rate book online by
Clicking Here
.
COURSE INFORMATION:
World Tour:
This 18-hole gem is a fun course to play. With 18 holes inspired by some of the greatest holes in the world, you will not be disappointed. After playing there on Monday, June 20th, I can say that the course is in great shape. The greens were about 2 weeks post aerification so they were a bit soft and slower than usual, but now they are back to 100% and rolling great. World Tour is part of the Founder's Group so it is available with the
Captain's Choice Package
,
Prime Time Rewards Package ($100 gift card per golfer)
,
and Play 3, Get the 4th Free.
Thistle Golf Club:
Thistle is 27 holes of pure enjoyment. This golf course gives you the link style golf many of you enjoy. When you pull in to the multi-million dollar clubhouse you will be wowed and you will continue to be wowed during the duration of your outing. I could go on and on about this course, but I won't. You will see why this course is so awesome once you play it. You can book Thistle Golf Club in several ways. You can book it in the
Captain's Choice Package
,
The Elite Package with Prestwick/Arrowhead/Tidewater
, and the 2 round package with Tidewater known as the
TNT Package
.
For more information regarding the best deals, courses, and things to do, just gives us a call! Don Herlocker, Kathy Phillips, and I are here to help you plan the best vacation for you and your friends. If you are ready to check out some pricing you can request a
Quote
or go
Online
and start building your package today. When you finish, you can save the quote and even send it to your friends so they can see the deal you just found.
Scott Thrailkill,
Director of Golf - SeaSide Myrtle Beach SeaSide Resorts, MyrtleBeachGolf.net, and TeeUpMyrtleBeach.com.

Guest Comments
"

I loved my weekend stay there. Wonderful room and wonderful housekeeping.

"
Cara Raines Kaiser via Facebook
"

Seaside is truly a jewel. Amenities were great and our stay was wonderful. I did notice that your website doesn't do you justice. The furniture in our condo was updated and the bed linens were decorated in a more modern up to date fashion. Absolutely gorgeous. Your website needs to be updated to reflect how uniquely beautiful your condos really are. Although one elevator was down during our stay it did not put a damper on my family's vacation. Very clean and pristine resort and staff was very helpful. We will be returning!!!

"
Keith Munn, via TripAdvisor
Click here to read more Guest Comments.
Fun in the Sun
Beach Travel Tips
Packing for the beach can be a daunting task. These tips below make it a little easier.
Store Your Electronics in Plastic Bags:Are you tired of worrying about your cell phone getting wet every time you go to the beach, hate to take it, but also hate to be without it? Turn to a trusty zip-loc plastic baggie and never worry about it getting soaked or sandy again.


Stop Being Sandy with some baby powder: Baby powder doesn't just smell nice, but it can also take all that sand off your body. Everyone hates the feeling of not being able to get totally sand free on the hands, arms, legs, and feet instead of trying to rub it off or wash it off, simply shake some baby powder onto it. In no time flat, you'll have silky, sand free skin with a soft, relaxing aroma.


Get To The Beach Early in The Day: If it is going to be a beautiful day, there is nothing wrong with with heading to the shore earlier rather than later. It's not usually crowded, and although the water may seem a bit cooler than it will be at 2:30 p.m., it will still feel refreshing and wonderful. The sun doesn't shine as intensely in the morning, either.
Summer Recipe
-
Chocolate Lasagna
1 package of chocolate sandwich cookies
6 tablespoons butter, melted
8 oz package cream cheese, softened
1/4 cup granulated sugar
2 tablespoons cold milk
12 oz tub frozen whipped topping
3.9 oz package chocolate instant pudding
3 1/4 cups cold milk
1 1/2 cups mini chocolate chips