Newsletter
SeaSide Resort North Myrtle Beach Community Newsletter
You already know where to stay in Myrtle Beach for unmatched access to the ocean, attractions and South Carolina's best golf.

But what about upcoming events and other insider tips for enjoying your vacation?

Be sure to read the SeaSide monthly newsletter, where you'll find the latest updates about our seasonal specials and holiday events, learn about recent hotel upgrades and meet members of our staff.

   Spring 2013                         Vol. 4 Issue 2
Greetings from SeaSide!
Spring is finally here in North Myrtle Beach! We are busy gearing up for Summer 2013 and all of the fun that it will bring. We are busy with improvements to make the stays of each of our guests the best that they can be. Make your vacation plans today - call or book online! Our vacation planners are ready to help you plan your memorable beach vacation.
News from SeaSide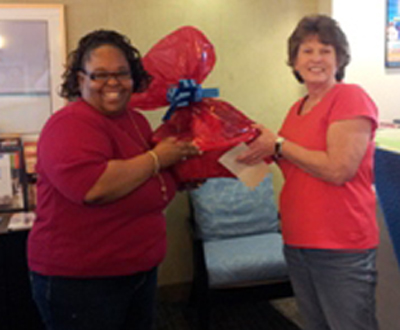 Valentines Day at SeaSide
We held a fun Valentine's Day Gift Basket Raffle to benefit the American Heart Association. Gayle Curzon was the winner of the gift basket!
Easter at SeaSide
We had many fun activities here for Easter. Our festivities kicked off with a coloring contest and a jellybean counting contest. Winners of these contests were announced on Easter Morning. On Saturday, we had fun activities for the kids - they enjoyed face painting, coloring and word puzzles with the Easter Bunny. We also had pizza and enjoyed an Easter movie! On Easter Sunday, we announced the winner for our Easter basket giveaway raffle.
Vacation Giveaway Winner Announced
SeaSide would like to announce that the winner of our 2012 Vacation Giveaway was Morgan Newsome. She won a two-night getaway at SeaSide.
Click here
to sign up to receive our emails and be entered in our 2013 Vacation Giveaway!
Sea Turtle Season is Almost Here!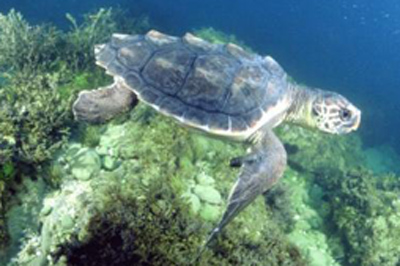 Loggerhead turtles are an endangered species of sea turtles (and our state reptile) found in our area. Loggerhead turtle nesting season begins in May and lasts through October.
Persistent population declines due to pollution, shrimp trawling and development in their nesting areas - among other factors - have kept this beautiful creature on the endangered species list since 1978.
These sea turtles can grow to be three feet long and almost as wide! They often grow to weigh between 250 and 350 pounds. They are primarily carnivores - munching on jellyfish, conchs, crabs and fish. Sometimes they even eat seaweed.
Female sea turtles will crawl out of the ocean to lay her eggs. She will spend between 30 and 45 minutes digging. She will then lay around 100 ping-ping ball-sized eggs. Once her eggs have been laid, she will return to the ocean and will never see the eggs or her hatchlings ever again. It will take between 45 and 65 days for the eggs to hatch depending on the temperature of the sand. It is estimated that only 1 out of 1,000 of these turtles makes it to adulthood. Nests can often be lost to predators such as raccoons, dogs, ghost crabs, sea birds, ants, as well as shoreline erosion and human predation.
There are some things that you can do to help when you visit the beach:
Do not disturb them. If you see an adult coming on shore - keep your distance. She may return to the sea without laying her eggs. After too many failed attempts she may just release her eggs into the ocean.


Be sure to fill in holes that you dig on the beach. These tiny turtle hatchlings can fall in the holes and become trapped!


Turn off flashlights and keep other artificial light sources low after the sun goes down. These artificial light sources may confuse the females and may cause them to head in the wrong direction because they use the moon for guidance. Artificial lights could also cause the hatchlings to go in the wrong direction.


Do not touch the hatchlings. They must be allowed to crawl to the ocean on their own.


Pick up your trash. Be sure to take your tents, chairs, coolers and trash with you when you leave the beach. Turtles may become tangled in these items as they leave the beach. Plastic bags can actually be deadly for these turtles. They may mistake a plastic bag for a meal of jellyfish.


Leave established nests alone. Don't make their odds even tougher. These turtles are protected and it is a federal crime to bother sea turtles, their hatchlings, or their nests.


If you see a sick or injured turtle on the beach or if you find a nest, please contact the North Myrtle Beach Sea Turtle Patrol at (843) 283-6670 or the South Carolina Department of Natural Resources at 1-800-922-5431.
North Myrtle Beach Regulations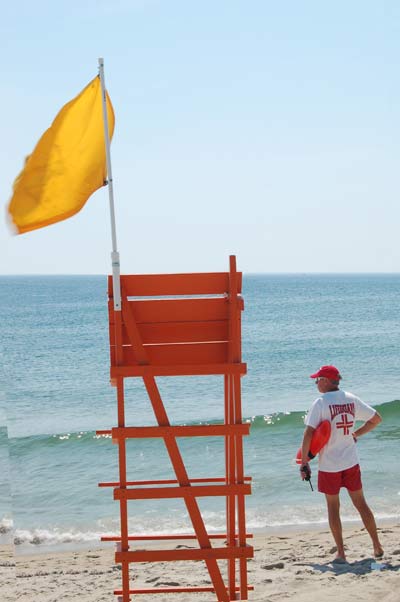 As folks make their way back to the beach this summer, please keep these regulations in mind. They are the laws of North Myrtle Beach and help make the beach safer and more fun for everyone.
No Littering. If you litter, you may be fined up to $1,000.
No Alcohol or glass containers are allowed on the beach.
Do not damage sea oats, sea grass or sand fencing.
Discharging or even possessing fireworks is illegal within the city limits of North Myrtle Beach. This includes fireworks on the beach.
Open containers of beer, wine or liquor are prohibited in vehicles, or any public place including streets, sidewalks, and beach areas.
Swimming is not permitted beyond fifty yards from the beach or over shoulder depth unless otherwise stated by the lifeguard.
Jumping or diving from piers is prohibited and swimming within fifty yards of a pier is prohibited.
Only canvas fabric rafts may be used in the ocean. These rafts must be equipped with safety ropes.
Surfing is only allowed in designated areas.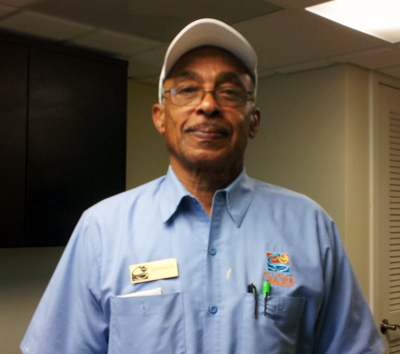 Donald Johnson | Engineering
Our featured employee for this quarter is Donald Johnson. Donald is our engineering tech. While Donald has only been employed at SeaSide for nine months, he has been living in the North Myrtle Beach area for forty years!

Donald is a true family man. He has two daughters, one son and seven grandchildren. He also has a sister who lives in Florence, South Carolina. When he's not at work, Donald has many hobbies. He especially enjoys riding his ATV, shopping at yard sales and he enjoys repairing cars.

"We are lucky to have such a skilled engineering tech working here at SeaSide. He always has a smile on his face and he is pleased to help others in any way that he can. We hope that he remains a part of our SeaSide family for many years to come." Says Marvis Livingston, manager at SeaSide.

Guest Comments

"We had the best time while we were there - even stayed an extra day. We were sad to leave and are anxious to make our reservations for next year. Your staff is AMAZING!!!" Robin Karratti, Jacksonville, NC "Our stay was a very nice experience. Having searched the internet for hours to find accommodations, I found your website. The facility was great. The room was more than I expected. I will certainly stay at your facility again if rooms are available. Again, thanks for a very pleasurable experience." Theresa Cone, Middlesex, NC


Click here to read more Guest Comments.


Fun in the Sun

Myrtle Beach Fun Facts
Did you know that Spanish explorers sailing north from Hispaniola in the Early 1500s were the first tourists along the Grand Strand?
Did you know that the average depth of the ocean is 12,200 feet or about 2 miles.
Did you know that the world's oceans contain nearly 20 million tons of gold?
Did you know that 90% of all volcanic activity on earth occurs in the ocean?
Less than 10% of the ocean's living space has been explored by humans.

Monthly Recipe - Strawberry Banana Cream Pie
1/2 cup sugar
2 tablespoons cornstarch
1/4 teaspoon salt
4 egg yolks
2 cups milk
1 1/2 teaspoons vanilla
1 pint strawberries, sliced
1- 9 in. baked pastry shell
1 large banana or 2 small bananas, peeled and sliced
whipped cream, optional
In medium saucepan, combine sugar, cornstarch and salt.
Blend together egg yolks and milk.
Stir small amount of milk mixture into dry ingredients, making a smooth paste.
Gradually blend in remaining milk mixture.
Cook over medium heat, stirring constantly, until mixture thickens and boils.
Allow to boil for one minute.
Remove from heat and stir in Vanilla.
Cool quickly by setting pan in bowl of ice or cold water and stirring for a few minutes.
Arrange Strawberries in the bottom of the pie shell, reserving about 1/4 of them for garnish.
Pour half of the custard over berries.
Layer bananas over custard layer and top with remaining custard.
Cover and refrigerate for at least 3 hours.
Garnish with reserved berries and whipped cream.