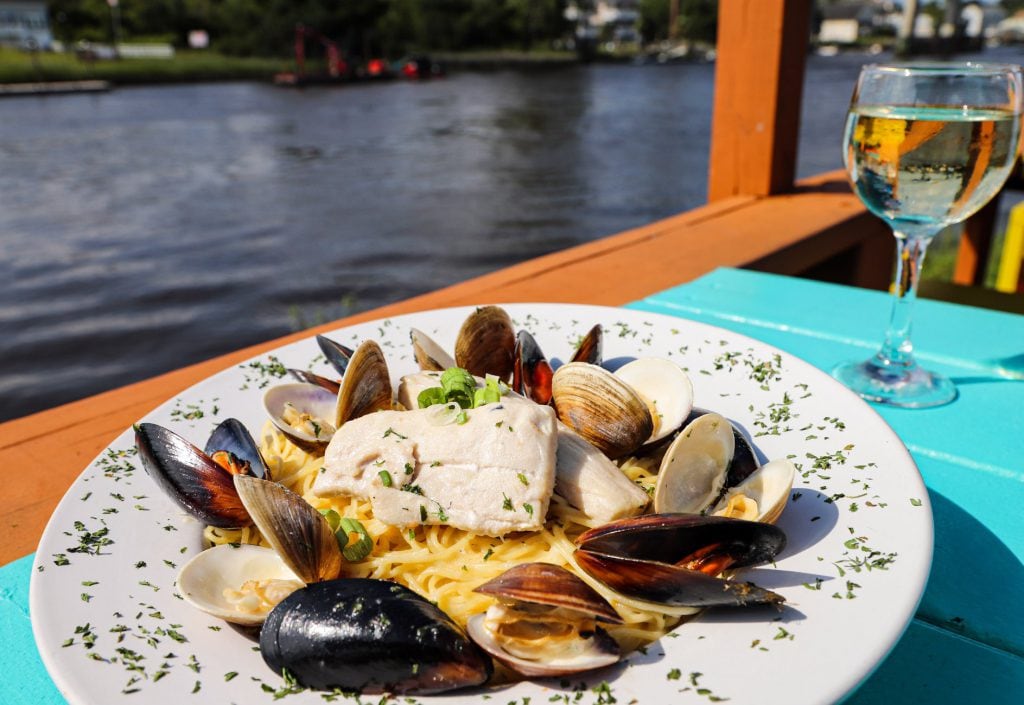 Freshly Shucked Oysters. Delicious Low Country Specialties. Fish that was swimming around the Atlantic mere hours before it hits your plate. One of the top reasons travelers choose to come to the beach is the great variety of fresh seafood and restaurants who take great pride in delivering a memorable dining experience. Sure, inland cities have their 1 or 2 fried fish houses and Red Lobster is.....okay, but if you are looking for something you just cant get at home, weve got some great places for you to visit. Here are 5 of the top fresh seafood restaurants and why you should go:
Snookys prides itself on having the freshest ingredients, as well as a perfect variety of their own takes on classic dishes.

2 Unique locations - Snookys on the Water is situated on the Intracoastal Waterway, where you can watch boats of all types lazily make their way by. Snookys on the Ocean is located oceanfront in Cherry Grove where you can watch the waves and let that refreshing ocean breeze serve as a very welcome additional guest!

The Captain Lance Tower - If youre looking for great variety, youve found it! Atlantic Red Crab Claws, ½ pound of peel and eat shrimp, a dozen seasonal oysters on the half shell, Tuna Poke, Avocado Salad, Jumbo Lump Crab Salad, & Snow Crab Legs.

Why you should go: opened in 1948 by Hubert and Leona Hoskins, Hoskins has served the Grand Strand for over 70 years. When you drive or walk past Hoskins during lunch and dinner hours, youll notice that theres usually a line, so you just know the food is out of this world. Dont let the lines discourage you, the service is as efficient as it is friendly. Within minutes of ordering, youll have some of the freshest food from the area on your plate. Fresh flounder, fried chicken, chicken bog, barbeque, and some of the BEST mac & cheese around can all be had. The Prices are perhaps the most reasonable in the entire county, as you will always get your fill and sometimes have to get a to-go box! Should you visit Hoskins on your next trip to the beach? Ill put it this way: My best friend came down to visit recently for the first time. He asked where was a good place to eat lunch to capture the flavors of the area. There was no hesitation: HOSKINS!.

Why Location: Hoskins has such a convenient location. Just a few blocks off the beach on Main St., Hoskins is close to all the great shops and very easy to find. Inside, youll find wonderful old photographs of the area that are a joy to look at.

What you should order: The Calabash Shrimp Special on Fridays is one of their famous draws. You will be hard pressed to find better or fresher shrimp - even in Calabash, itself! Mac & Cheese, Fries, Biscuits, & Cornbred are perfect complements. P.S. Save room for the homemade peanut butter pie - its DIVINE!

Why you should go: Fresh Seafood, Great burgers, and some of the absolute buy ambien overnight best sushi on the Grand Strand can be found here at Boardwalk Billys. They also have some of the most amazing happy hour appetizer specials you can find. Peel and eat shrimp, Fish Bites, Clams, Wings, and Crab Legs make for a great start of a fun and festive evening with your family and friends. Boardwalk Billys is the place where I truly fell in love with Sushi, as the way they prepare their creations is truly an art!

Why Location: Boardwalk Billys has one of the best locations in North Myrtle Beach - right on the Intracoastal Waterway. It has a very festive and welcoming atmosphere with indoor and outdoor seating and live entertainment just about every night. Multiple TVs also ensure that you wont miss the game while you are having a big time!

What you should order: Definitely ask your server about the sushi specials. Try the Dynamite Roll - it lives up to its name! If you have a sizeable appetite, order the Steam Pot, featuring Oysters, Clams, Shrimp, Crab Legs, Red Potatoes, Corn, and Sausage.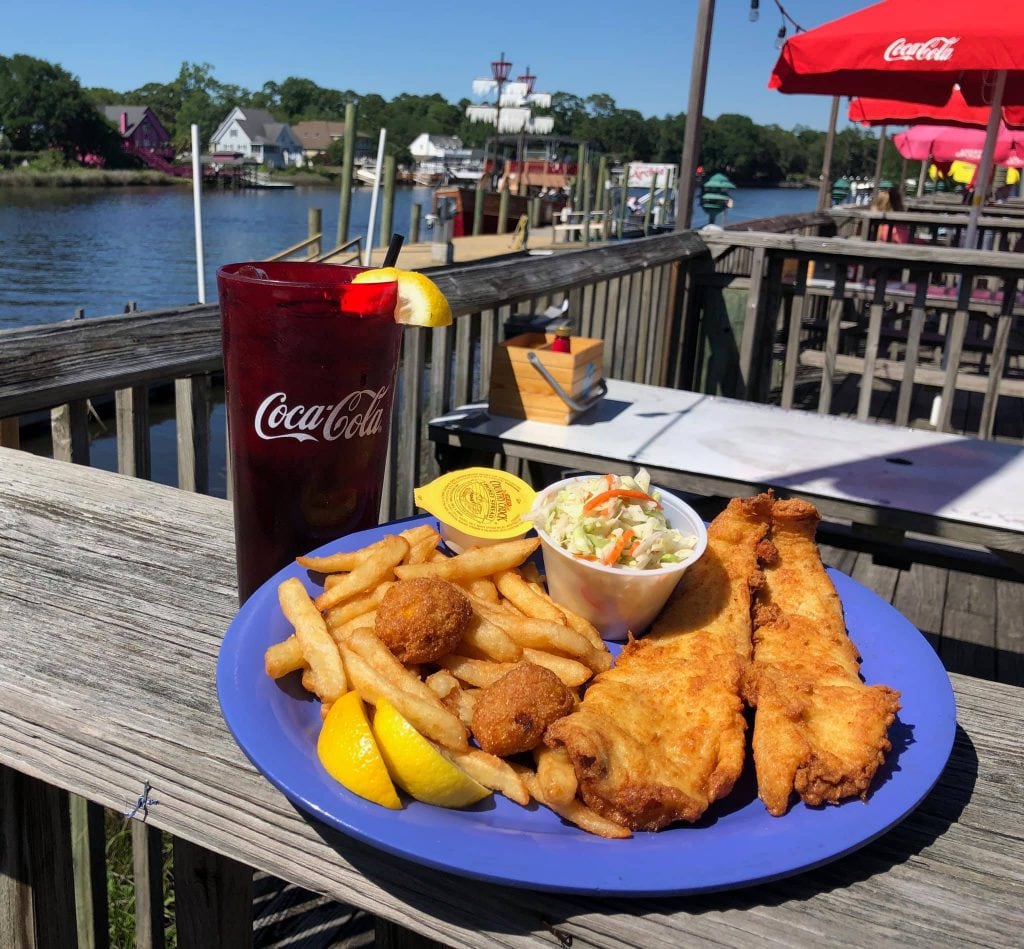 Why you should go: Named after Captain Archie Poo McLauchlin, this famous restaurant and bar is nestled perfectly under the North Myrtle Beach Causeway, right on the water. Every true local here has made their way to Captain Archies (formerly Captain Poos) to enjoy their fresh seafood, cold beer, and specialty cocktails.

Why Location: Relaxing and Reveling! Both can be had here at Captain Archies! Watch boats make their way into the marina and feel that warm, salty breeze take your cares away! With live entertainment, festive music, and lively patrons, this place is just fun! A very happy and welcoming atmosphere, indeed!

What you should order: The Burgers are fantastic, as well as the seafood! Personally, Im a huge fan of their Mushroom Swiss Burger and its hard to say no to the peel and eat shrimp. Their homemade cocktail sauce is right up there with the best Ive had. There s something about enjoying shrimp, a cold drink, and watching the sun go down at the end of a perfect day.

Why you should go: Filets is the perfect North Myrtle Beach/Little River spot for those looking for the highest quality cuisine with an amazing view. They specialize in making special occasions that much better with top-notch service and attention to detail in their food and atmosphere.

Why Location: What a great spot! Youll have an excellent view of the waterway, marina, and the Little River Swing Bridge. Live entertainment and indoor/outdoor comfortable seating make for an excellent experience.

What you should order: Specializing in Steaks, Seafood, and Sushi, Filets will never disappoint. Order the Triggerfish - a local favorite, lightly blackened then broiled, finished with a jumbo shrimp, melted brie cheese & fresh pecan garnish.
Seaside Resort here in North Myrtle Beach is one of the best locations to serve as headquarters for those looking for the best in North Myrtle Beach Cuisine. Book your next North Myrtle Beach Vacation Here: SEASIDE RESORT
Jason Coker is originally from the metropolis of Burlington, NC and is passionate about vacation experiences. An aficionado of music, sports, and all things geeky, Jason spends his free time performing music, grilling out, and relaxing with his son, daughter, and lovely wife, Amy.